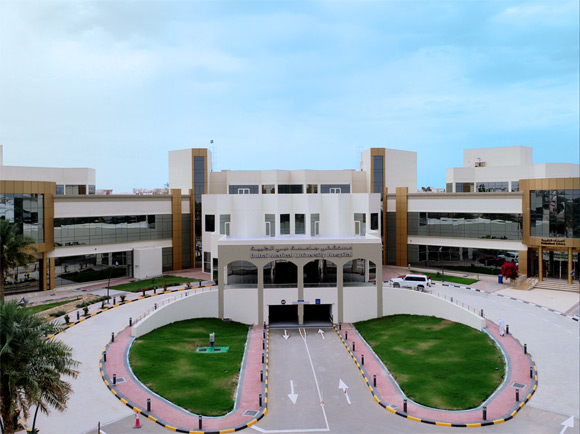 Dubai Medical University Hospital
Together for better health & continuing education
Dubai Medical University Hospital (DMUH) is affiliated to Saeed Bin Ahmed Al Lootah & Sons Group. It is a multi-specialty hospital located in Muhaisnah 1 in Dubai, United Arab Emirates.
DMUH is a 100 + bed, physician-led medical facility which provides for the healthcare needs of the whole family. It provides patient-centric, high-quality, non-acute, complex and critical health care services delivered in compliance with global accreditation and international best standards. More than 40 medical and surgical specialties are represented at DMUH. They offer patients local access to world-class treatment and leading medical professionals.

DMUH combines state-of-the-art amenities and world-class service standards. Our experienced and internationally acclaimed physicians have access to the latest medical technology in Radiology, Laboratories, Operating Rooms, Intensive Care Unit, Coronary Care Unit and inpatient areas. They use skillful clinical examination, up to date tests, latest innovations and advanced techniques to safely diagnose, monitor and create tailored and personalized treatment plans for their patients. They are supported by skilled multidisciplinary teams of nurses, dieticians, physiotherapists and respiratory therapist who focus on the patient's long-term recovery, help them return to good health and minimize the risk of future problems.

DMUH is more than a hospital which places the health outcomes of our patients before anything else. Our services extend beyond providing medical services as DMUH is an educational, medical research and service institution.

A key part of our Corporate Social Responsibility (CSR) is to help and support the public in Dubai and surrounding areas by improving their quality of life.
Vision
Excellence in providing integrated and distinguished health care with the highest international quality and safety standards.






Mission
To serve the community by establishing a distinct health system to promote the health services provided for patients according to the highest international standards in the quality of medical and treatment services.


Objectives
Enhancing the hospital's role in providing health services in accordance with the highest international standards, which helps in serving the individual and society.
Compliance fully with ethical and professional standards in all areas of work at Dubai Medical University Hospital.
Dubai Medical University Hospital endeavors to keep abreast of the latest technologies in the field of medicine and medical care, which are elements of its success.
Ensure that all health and treatment services are provided in accordance with quality, efficiency and transparency standards.
Education and training by providing the educational field and integrated training for internship doctors, graduates, and students of medical specialties in the College of Medicine and the College of Pharmacy.
Organizing a continuous medical education program for faculty members, doctors, and various groups of employees of associate medical specialties.
Developing the capabilities of scientific researches and innovation in the medical and pharmaceutical fields of the national and the international importance.
The scientific correlation between Dubai Medical University Hospital and its counterparts in the world by raising the level of medical performance and providing training opportunity for scientific exchange and participation in scientific and international rese arches, symposia and conferences in this field through joint research projects.
Values
Innovation

Sustainability

Credibility
Transparency

Mastery

Observing customs & traditions
Management Team
Abdullah Bin Saeed Lootah
Chief Executive Officer (CEO)
Abdullah Bin Saeed Lootah is the Director of the S.S. Lootah Group, a leading business house founded and chaired by his father Haj Saeed Ahmed Al-Lootah in 1956.